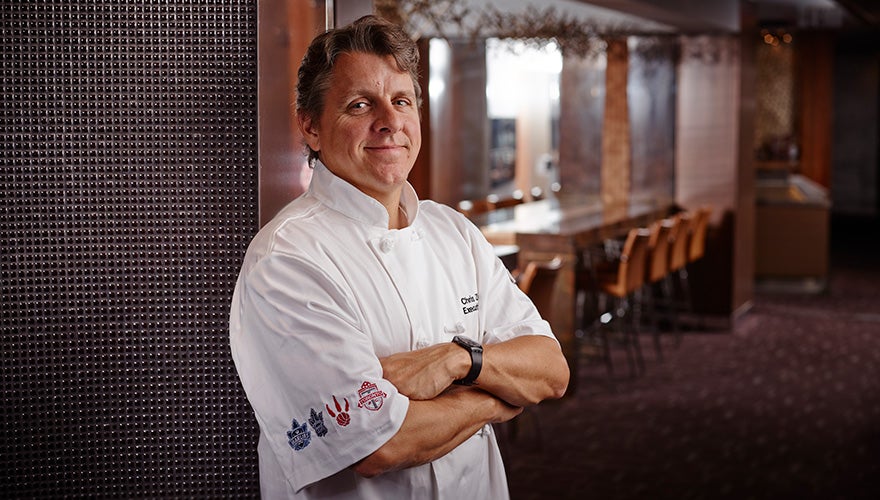 Chris Zielinski
Culinary Director, F&B
Chef Chris Zielinski is the Culinary Director and Executive Chef for MLSE. Chris' diverse portfolio includes oversight of all quick-serve and premium foodservice at Scotiabank Arena, BMO Field and Coca-Cola Coliseum. In addition to his arena and stadium portfolio Chris oversees the culinary program for MLSE's two stand-alone restaurants, Real Sports & e11even.
Chris grew up in Western Michigan, and eventually re-located to Toronto where he completed the culinary management program at George Brown College. Prior to his role at MLSE, Chef Zielinski was Executive Chef for the National Ballet School, Mercer St. Grill, YYZ Restaurant and Wine Bar and Ultra Supper Club. Chris was named Now Magazine's Chef of the Year when he was Executive Chef at Tippler's.
Over his 12-year tenure, Chris has continually raised the bar for MLSE through his innovative approach and passion for food. He has overseen tremendous growth and change within the three Scotiabank Arena Club Restaurants, including The Scotiaclub, the renowned Hot Stove Club and the prestigious Platinum Club. With the opening of the 27,000 square foot Real Sports Bar and classic grill restaurant, e11even, Chris successfully created and implemented culinary programs that put fresh ingredients at the forefront.
With oversight of a team of 20 full-time chefs and 300 part-time cooks, Chris spends much of his time leading and motivating his team to think big, to always think like our fans would and to be at the forefront of culinary innovation. Chris is most proud of the role that he played in successfully hosting the NBA All-Star Game, the MLS Cup, the NBA Finals and most recently he lead the Bringing Toronto Back to Its Feet program creating, 675,000 meals for front line workers and those most in need.