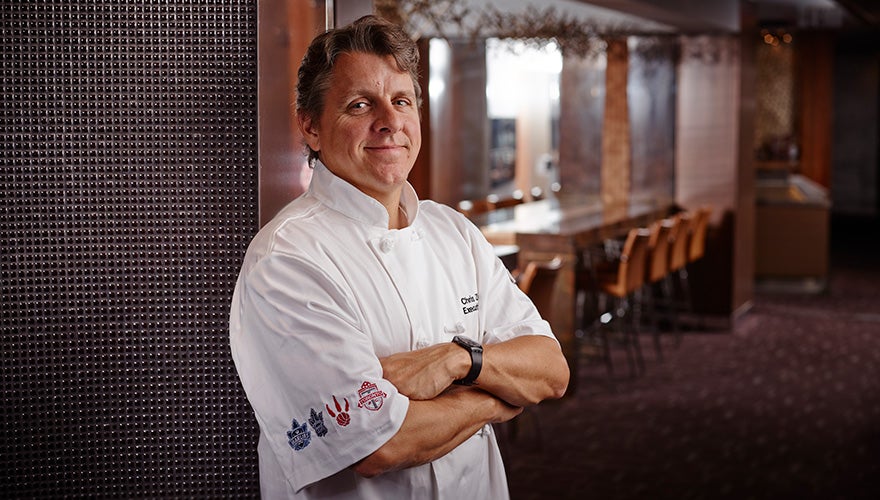 Chris Zielinski
Culinary Director, F&B
Chef Chris Zielinski is the Culinary Director and Executive Chef for all MLSE properties. This includes three stadiums (Scotiabank Arena, BMO Field, Coca-Cola Coliseum), six restaurants (Real Sports Bar and Grill Toronto and Ottawa, e11even, Platinum Club, Scotia Club, Hot Stove) There is also a large catering component that includes feeding our teams high performance based meals that keep our teams healthy and in the hunt. He currently oversees a staff of 14 Executive Chefs and Sous Chefs, 250 cooks and 65 stewards. A large part of his job is working with each of the chefs on new menu items that are based on fan feedback and designed with the individual tastes of hockey, basketball and soccer fans in mind. It is Chef Zielinski's job to ensure we are meeting the challenge of exciting our fans while keeping current with culinary trends.
Chef Zielinski was first inspired by his grandmother's farm and table cooking in Northern Michigan. In 1983 he moved from Michigan to Toronto where he worked his first job as a busboy, exposing him to the hospitality industry. His interest quickly turned to cooking so he attended and completed the culinary management program at George Brown College. Upon graduating, he was hired by the then up and coming Chef Susur Lee, who had just opened his first restaurant, Lotus.
In 1991, Chef Zielinski was named head chef at Tippler's restaurant and Now magazine's Chef of the Year. He has also worked as the executive chef for the National Ballet School, Mercer St. Grill, YYZ Restaurant and Wine Bar, the prestigious Ultra Supper Club and even ran his own catering company (Culinary Productions).
His approach to cooking is rooted in a quest for culinary knowledge. "Even the best teachers and leaders never stop learning. The challenge of feeding 18,000 fans on any given day is a never ending study in planning and execution with a sole focus of exciting every fan. Being able to work with the finest ingredients on the market, while working alongside such a talented team of chefs and cooks, makes everyday a new adventure," he says.​