CANCELLED: Zac Brown Band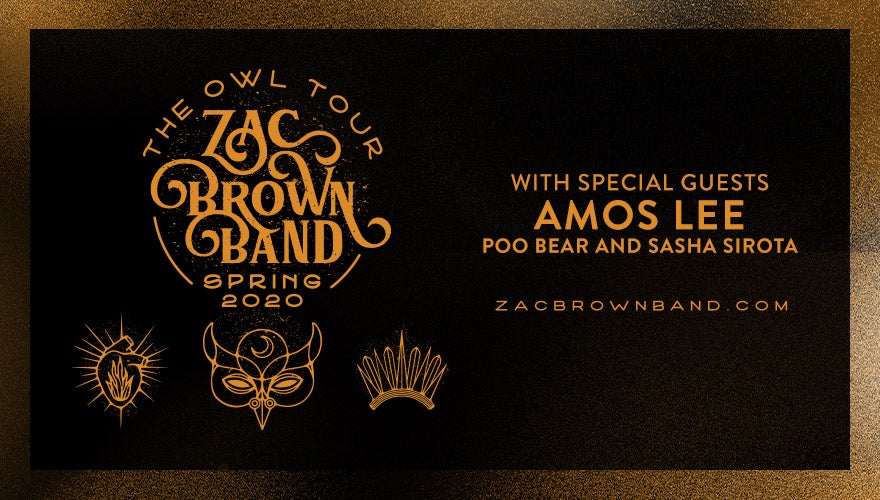 CANCELLED: Zac Brown Band
Event Information
To all our fans,
Zac Brown Band has made the very difficult decision to not move forward with all remaining 2020 tour dates including "The Owl Tour" and "Roar with the Lions Tour." We are deeply disappointed this has happened, touring is our life blood and performing live for our fans is the best part of this job. Bottom line though, we want to take every precaution to put the health and safety of our fans and crew first.
We are in unprecedented times which requires unprecedented decisions. It is up to all of us to change the course of this pandemic and make sacrifices for the sake of our fellow man. The sooner we all do our part, the sooner we can get past this. To those of you taking proper steps to keep yourself and those around you healthy, thank you. To those of you still out there not taking this seriously, it's time to wake up. The longer you wait to self-isolate, the longer entire communities will be out of work and the longer it will take our country to recover.
Because of this difficult decision to cancel, all fans who purchased tickets to any of our 2020 shows are entitled to a refund. If you purchased tickets via Ticketmaster, full refunds will be issued automatically and no additional action is needed. If you purchased through another source, please reach out to your point of purchase to issue a refund.
We are grateful to our fans for understanding this decision as well as everyone on the front lines who can't stay at home because their work is essential. We believe we can all overcome this together. As soon as it's safe, we'll see you back out on the road again. Until then, stay safe, healthy and do your part.
Policies
Mobile Ticketing

Moving forward, all future tickets sold for events at Scotiabank Arena will be Mobile Only Delivery. Download the Official Scotiabank Arena Mobile App to manage your tickets.

Back In Action

Learn more about our our Back In Action plan including important information you'll need to know when returning to events at Scotiabank Arena!

Scotiabank Arena Bag Policy

To protect our fans, employees and team and to align with league and tour standards, a restricted bag policy is in place at Scotiabank Arena. This policy will reduce contact between security staff and patrons' items as well as inhibit the introduction of prohibited items to the venue.

MLSE strongly encourages fans to not bring any type of bags, but fans can view our most current bag policy here.

Subject to change on an event by event basis. Last updated October, 2021.

Re-Entry Policy

Please note that as an additional security measure, no re-entry is permitted after you have exited Scotiabank Arena gates. There are no longer any in-and-out privileges.


Camera Policy

NBA Policy: Camera flashes may not be used at any time during games. Cameras with detachable lenses are strictly prohibited. Video cameras are permitted, however NBA policy strictly prohibits the use of still photos or video footage for commercial purposes without the express written approval of the NBA head office.

NHL Policy: Non-flash still photography is permitted; however, the lens must not exceed 75mm. Video cameras, GoPros, and Selfie Sticks are not permitted.

Concerts: As the camera policy for each event varies, we recommend that fans contact Fan Services at (416) 815-5982 prior to arriving at the building to confirm the camera policy for a particular event. iPads and other tablets are not permitted during Concerts/Special Events. MLSE reserves the right to confiscate any tape or film that is used during an event.

Vaccine Requirements

Each fan aged 12 and older must present proof of full COVID-19 vaccination* along with government issued ID at entry gates to Scotiabank Arena.

We are unable to accept proof of a negative COVID-19 test for admittance (except for guests with a verified medical exemption). Children who are 11 years of age and younger will be exempted from proof of vaccine and testing requirements.

*In accordance with Ministry of Health guidance, an individual is considered fully vaccinated if they have received: (a) the full series of a COVID-19 vaccine authorized by Health Canada, or any combination of such vaccines; (b) one or two doses of a COVID-19 vaccine not authorized by Health Canada, followed by one dose of a COVID-19 mRNA vaccine authorized by Health Canada, or (c) three doses of a COVID-19 vaccine not authorized by Health Canada; and they received their final dose of the COVID-19 vaccine at least 14 days before providing the proof of being fully vaccinated.

A negative COVID-19 test result will no longer be accepted, except for individuals with a doctor's note indicating they cannot receive the vaccine due to medical exemptions.

More information available here.