CANCELLED: Zac Brown Band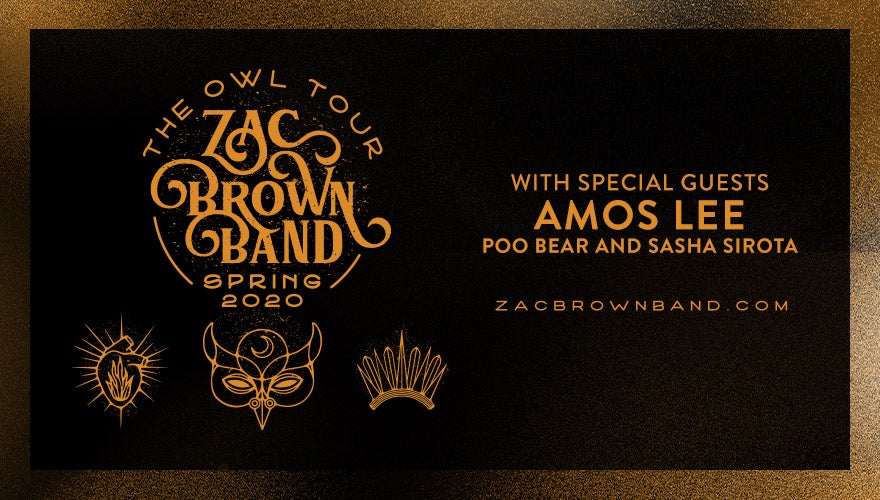 CANCELLED: Zac Brown Band
Event Information
To all our fans,
Zac Brown Band has made the very difficult decision to not move forward with all remaining 2020 tour dates including "The Owl Tour" and "Roar with the Lions Tour." We are deeply disappointed this has happened, touring is our life blood and performing live for our fans is the best part of this job. Bottom line though, we want to take every precaution to put the health and safety of our fans and crew first.
We are in unprecedented times which requires unprecedented decisions. It is up to all of us to change the course of this pandemic and make sacrifices for the sake of our fellow man. The sooner we all do our part, the sooner we can get past this. To those of you taking proper steps to keep yourself and those around you healthy, thank you. To those of you still out there not taking this seriously, it's time to wake up. The longer you wait to self-isolate, the longer entire communities will be out of work and the longer it will take our country to recover.
Because of this difficult decision to cancel, all fans who purchased tickets to any of our 2020 shows are entitled to a refund. If you purchased tickets via Ticketmaster, full refunds will be issued automatically and no additional action is needed. If you purchased through another source, please reach out to your point of purchase to issue a refund.
We are grateful to our fans for understanding this decision as well as everyone on the front lines who can't stay at home because their work is essential. We believe we can all overcome this together. As soon as it's safe, we'll see you back out on the road again. Until then, stay safe, healthy and do your part.
Policies
Scotiabank Arena Bag Policy

The Scotiabank Arena bag policy allows soft-sided bags, purses and briefcases smaller than 14" X 14" X 6" into the building. Permitted bags should be able to fit completely under the arena seats. All bags will be searched. Scotiabank Arena is unable to store oversized bags or prohibited items. Medically necessary items are exempt and will be permitted after inspection

Re-Entry Policy

Please note that as an additional security measure, no re-entry is permitted after you have exited Scotiabank Arena gates. There are no longer any in-and-out privileges.


Camera Policy

NBA Policy: Camera flashes may not be used at any time during games. Cameras with detachable lenses are strictly prohibited. Video cameras are permitted, however NBA policy strictly prohibits the use of still photos or video footage for commercial purposes without the express written approval of the NBA head office.

NHL Policy: Non-flash still photography is permitted; however, the lens must not exceed 75mm. Video cameras, GoPros, and Selfie Sticks are not permitted.

Concerts: As the camera policy for each event varies, we recommend that fans contact Fan Services at (416) 815-5982 prior to arriving at the building to confirm the camera policy for a particular event. iPads and other tablets are not permitted during Concerts/Special Events. MLSE reserves the right to confiscate any tape or film that is used during an event.