Toronto Vaccine Day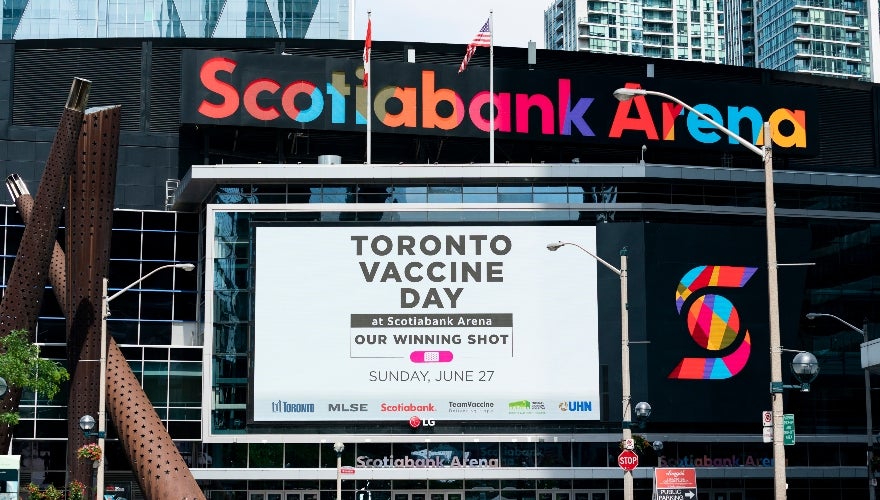 Toronto Vaccine Day
Event Information
City of Toronto announces Toronto Vaccine Day at Scotiabank Arena on June 27 - "Our Winning Shot" clinic planning to vaccinate more than 10,000 people

Today, Team Toronto announced thousands of new COVID-19 vaccination appointments for Toronto Vaccine Day at Scotiabank Arena on June 27.
The City of Toronto and Team Toronto vaccination partners are joining forces with Maple Leaf Sports & Entertainment (MLSE) and Scotiabank to hold a one-day "Our Winning Shot" vaccination event at Scotiabank Arena. In this full court press, the all-star vaccination team is hoping to get as many Toronto residents as possible vaccinated while setting a Canadian clinic single-day vaccination dose record in the home of the Toronto Maple Leafs and Toronto Raptors.
Clinic partners, led by University Health Network and Michael Garron Hospital, are planning to vaccinate more than 10,000 people on Sunday, in order to break the Canadian single day clinic record. All people age 12 and older are eligible to book first dose appointments and be part of history. Second dose appointments will also be available for anyone who received a Pfizer or Moderna shot prior to May 9 or AstraZeneca on or before May 1. As of Wednesday, anyone who received their first dose of Pfizer or Moderna prior to May 30th will also be able to book an appointment at this clinic.
Team Toronto has already made incredible progress getting people vaccinated. More than 25 per cent of Torontonians have their second dose of vaccine. Getting a second dose is vital in Toronto's fight against COVID-19 and the Delta variant (B.1.617.2) that is more infectious than other strains of the virus. Recent studies have shown that two weeks after the second dose of COVID-19 vaccine, a person's protection against the Delta variant is 50 per cent higher than one dose alone.
For anyone needing a first or second dose, the ball is in your court. Appointments will be required for the clinic. Starting today, June 21 at 8 a.m., appointments can be booked by residents through the dark blue "Book a Vaccine" button on www.toronto.ca/covid-19 or by calling the provincial vaccine booking line at 1-833-943-3900.
The clinic will be administering primarily the Moderna vaccine, with very limited Pfizer doses reserved for youth ages 12 to 17 with confirmed appointments. The Moderna and Pfizer vaccines are incredibly similar with near identical efficacy rates. The "mixed mRNA model" (mixing Pfizer and Moderna for first and second dose) as well as a first dose of the AstraZeneca vaccine followed by a second dose mRNA vaccine is approved by both the federal and provincial governments.
To easily connect to resources including vaccine appointment bookings, information on vaccines and upcoming telephone town halls, Toronto residents can text "VACCINE" to 1-833-750-0888 or 833-750-0888 for more information.
Mayor Tory recorded a video message inviting Torontonians to be part of this record-breaking day. View the video:
Quotes:
"This is our winning shot. Toronto Vaccine Day at Scotiabank Arena is one more way Team Toronto and all of our hardworking partners, including Maple Leaf Sports and Entertainment, are working to get everyone in our city vaccinated so we can bring this pandemic to an end. If you need a first dose or a second dose, please book your appointment for this record-breaking clinic. Taking part in Toronto Vaccine Day is a win-win. You'll be a part of history and you'll be protecting yourself, your family and our city's progress in fighting COVID-19."
- Mayor John Tory

"This vaccine campaign truly is Our Winning Shot. On Sunday, June 27, Torontonians can protect themselves and their city by being a part of this record-breaking event. This entire immunization campaign has been a Team Toronto effort. Hospitals and pharmacies, community agencies and neighbourhood ambassadors, residents from across our city - everyone has played a part. You can now add MLSE and Scotiabank to the list of Team Toronto partners stepping up to protect our City. Toronto, register today and be a part of it".
– Councillor Joe Cressy (Spadina-Fort York), Chair of the Toronto Board of Health
"The vaccination efforts across Toronto have been a truly team approach – from vaccine allocation, to providing low-barrier access to vaccines, and now with largest vaccination events in Canada. Thank you to city, hospital and community partners, and to MLSE and Scotiabank for providing another opportunity for Torontonians to get a first of second dose of vaccine."
– Dr. Eileen de Villa, Medical Officer of Health
"The strength of Team Toronto coming together to meet the challenges of the pandemic over the past year and a half has been as impressive as it has been vitally important. We know that the task in front of us right now, vaccinating as many people as we can, as quickly as we can is our most important effort yet and MLSE is proud to partner with the City of Toronto, Toronto Public Health and Scotiabank to use Scotiabank Arena to vaccinate a record number of people on Sunday and to demonstrate just how unified and strong Toronto is. We look forward to hosting fans again very soon in our venues, and it will all be possible through a team effort like this."
– Michael Friisdahl, President and CEO, MLSE
"Scotiabank Arena has been a home for champions and fans, a kitchen to feed frontline workers, and a place for our healthcare heroes to cheer on the home team. We're now proud to see Scotiabank Arena being used as a mass vaccination clinic to get shots into the arms of a record-setting number of people. Thanks to UHN, Michael Garron Hospital, MLSE and the City of Toronto for being our teammates on this life-saving initiative."
– Brian Porter, President and CEO, Scotiabank
"The people of TeamUHN have been in this from the very first day as part of Team Toronto's vaccination efforts. I couldn't be prouder of the role that our people have played in vaccinating the citizens of Toronto and this event demonstrates that the spirit of cooperation across sectors. My thanks to Scotiabank, Maple Leaf Sports and Entertainment, the City of Toronto, Michael Garron Hospital and all the community partners, and city's hospitals for joining with UHN in creating a day to remember in the City of Toronto."
– Kevin Smith, President & CEO, University Health Network (UHN)
"For the past few months the incredible collaboration between healthcare workers, community organizations, local ambassadors and various levels of government involved in the Team Toronto Sprint Strategy has led to an increase in vaccination rates in neighbourhoods that needed them the most. The thousands of people who make up Team Toronto are thrilled at the opportunity to come together on a single day at the Scotiabank Arena to get Toronto vaccinated. This will be everyone's winning shot."
- Phillip Anthony, CoLead of the Toronto Mobile Vaccine Strategy Table and Manager for the East Toronto Vaccination Strategy, Michael Garron Hospital
Policies
Mobile Ticketing

Moving forward, all future tickets sold for events at Scotiabank Arena will be Mobile Only Delivery. Download the Official Scotiabank Arena Mobile App to manage your tickets.

Scotiabank Arena Bag Policy

To protect our fans, employees and teams, and to align with league and tour standards, a restricted bag policy is in place at Scotiabank Arena.

Our up to date bag policy can be viewed HERE

Re-Entry Policy

Please note that as an additional security measure, no re-entry is permitted after you have exited Scotiabank Arena gates. There are no longer any in-and-out privileges.


Camera Policy

NBA Policy: Camera flashes may not be used at any time during games. Cameras with detachable lenses are strictly prohibited. Video cameras are permitted, however NBA policy strictly prohibits the use of still photos or video footage for commercial purposes without the express written approval of the NBA head office.

NHL Policy: Non-flash still photography is permitted; however, the lens must not exceed 75mm. Video cameras, GoPros, and Selfie Sticks are not permitted.

Concerts: As the camera policy for each event varies, we recommend that fans contact Fan Services at (416) 815-5982 prior to arriving at the building to confirm the camera policy for a particular event. iPads and other tablets are not permitted during Concerts/Special Events. MLSE reserves the right to confiscate any tape or film that is used during an event.