Toronto Raptors vs. Philadelphia 76ers Tailgate (Round 1 Game 5)
Presented by Tangerine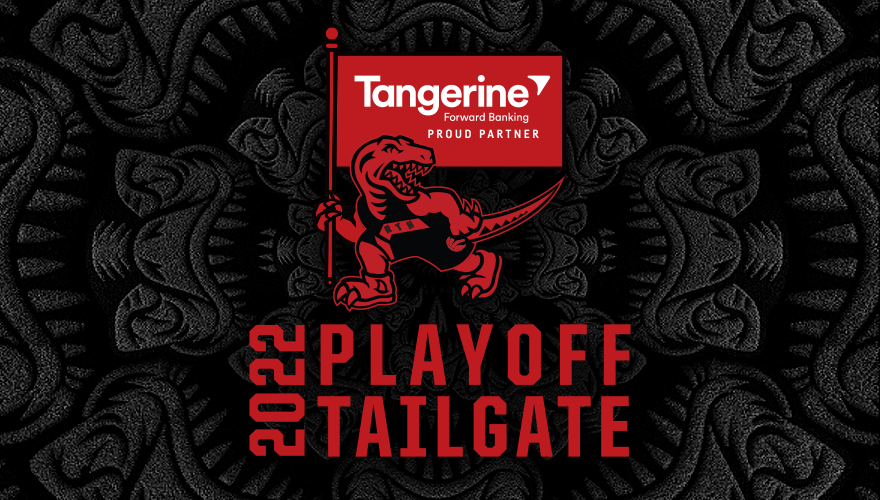 Toronto Raptors vs. Philadelphia 76ers Tailgate (Round 1 Game 5)
Presented by Tangerine
Event Information
The Toronto Raptors are hosting Tailgates presented by Tangerine at Maple Leaf Square (right outside of Gate 6 at Scotiabank Arena).
Note: This is for access to the outdoor tailgate viewing party only and does not grant access inside of Scotiabank Arena.
Gates open two and half (2) hours before tip-off.
Additional Ticket Information

Raptors Tailgates now require fans to obtain free mobile passes (QR Codes) to enter Maple Leaf Square. Passes will be available 24 to 48 hours before each confirmed game. Get your passes here: RaptorsTailgate.com

Mobile passes are new this year to enhance the fan experience by decreasing the line and wait times to the Tailgate and ensuring the safety of everyone in attendance. Fans can obtain a limit of four (4) passes. Arrive early! Space is subject to availability if arriving after the start of the game

Where is the entrance to the tailgate located?

Entrance to MLSQ Tailgates is located at Bay St & Lake Shore Blvd

I am season ticket holder trying to access the arena, not the tailgate. Where can I enter the building?

Season ticket holders can enter through Gates 1, 5 and 6 from the North side of the tailgate. There will be directional signage for fans

If I am a member of the media, where do I enter the tailgate?

Media entrance is located on the North side of the tailgate and there is directional scrim/signage to help direct people to this location

Is there access to Gate 5 from Bay and Lakeshore for season ticket holders?

There is no entry for season ticket holders into the building from the tailgate entrance (Bay and Lake Shore)

How do I secure a spot in the tailgate for each game?

Free Mobile Passes will be required this year to be admitted to tailgates. To obtain a pass, visit RaptorsTailgate.com

Does my ticket expire?

Gates open two and a half (2 ½) hours in advance of the game and close at the end of the third quarter.

What time does the tailgate begin?

Doors open 2 Hours prior to tip off

If it is raining, will the tailgate still happen?

Tailgates will go ahead rain or shine unless there is lightning or other safety risks. Updates will be communicated via the Scotiabank Arena social channels.

Is smoking allowed in the tailgate?

There is no smoking/vaping of any kind allowed in the tailgate

Are there in and out privileges?

There is no In and Out privileges in the tailgate

What items are not allowed inside the tailgate?

Prohibited Items:

Sticks, flags & flagpoles
Aerosol cans & fireworks
Skateboards, rollerblades or roller skates
Outside alcohol or outside food & beverage
Illegal drugs or noxious substances
Oversized bags Or luggage (14x14x6)
Lawn chairs
No smoking of any kind in the square
No offensive signs permitted
No umbrellas in the square
Any weapon, firearm, knife, etc.
Bottles, cans and coolers

Is alcohol served in the tailgate?

Alcohol service is available in Zone One
Alcohol service will end at the 10-minute mark of the 4th quarter for Raptors Tailgates

Is there food available inside the tailgate?

Food service is available in Zone One

Can I bring in my own food or drink?

There is no outside food or drink allowed inside of the tailgate

I am a vendor activating in the tailgate, when do I need to have my vehicle out of the square?

Vehicle Access will be closed on Bremner Blvd. from Lake Shore Blvd. to the east side of the parking garages – pedestrian access will re-open before and after tailgates.

Are there washrooms in the tailgate?

There are portable washrooms available in the tailgate.

Are there credentials for staff?

There are credentials for the tailgate that give people a certain levels of access (All Access, Production, Media, Visitor)

MLSE employees will not be let into the tailgate unless they have the appropriate credentials

If both the Leafs and Raptors play at the same time, which game will be shown at the tailgate?

Whichever team is playing at home will be shown in the tailgate. There is potential for alternative viewing areas and if that happens, that will be communicated beforehand.
Policies
Mobile Ticketing

Moving forward, all future tickets sold for events at Scotiabank Arena will be Mobile Only Delivery. Download the Official Scotiabank Arena Mobile App to manage your tickets.

Scotiabank Arena Bag Policy

To protect our fans, employees and teams, and to align with league and tour standards, a restricted bag policy is in place at Scotiabank Arena.

Only small purses, clutch, or fanny pack type bags smaller than 16.5cm x 11.5cm (6.5"x4.5") are permitted.

If for any reason (medical or other) a bag is required that does not adhere to the bag policy, entry may be permitted subject to x-ray inspection of the bag and contents. X-ray is available at gates 1, 4 and 5

MLSE strongly encourages fans to not bring any type of bags. Bag check will be available for $20 for items that do not fit the size requirement.

This policy is subject to change on an event by event basis. Last updated October, 2022. Full bag policy can be viewed here.

Re-Entry Policy

Please note that as an additional security measure, no re-entry is permitted after you have exited Scotiabank Arena gates. There are no longer any in-and-out privileges.


Camera Policy

NBA Policy: Camera flashes may not be used at any time during games. Cameras with detachable lenses are strictly prohibited. Video cameras are permitted, however NBA policy strictly prohibits the use of still photos or video footage for commercial purposes without the express written approval of the NBA head office.

NHL Policy: Non-flash still photography is permitted; however, the lens must not exceed 75mm. Video cameras, GoPros, and Selfie Sticks are not permitted.

Concerts: As the camera policy for each event varies, we recommend that fans contact Fan Services at (416) 815-5982 prior to arriving at the building to confirm the camera policy for a particular event. iPads and other tablets are not permitted during Concerts/Special Events. MLSE reserves the right to confiscate any tape or film that is used during an event.