RESCHEDULED: Stars on Ice
Kurt Browning, Elvis Stojko & More!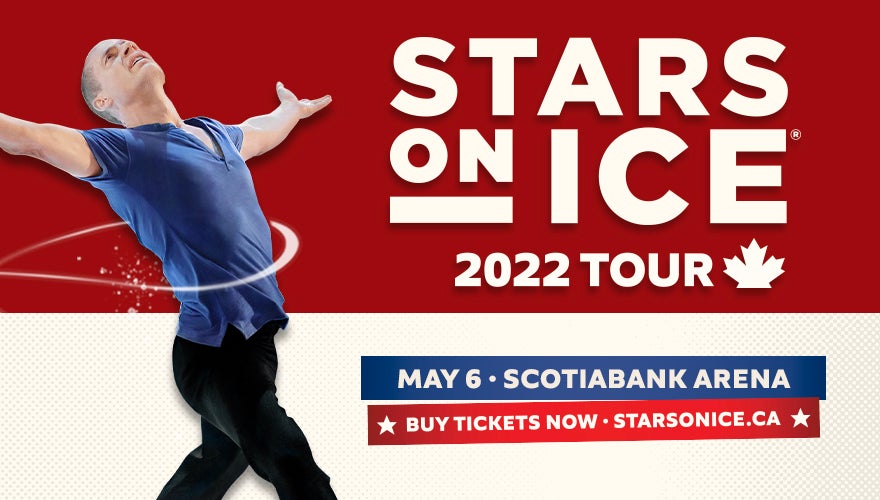 RESCHEDULED: Stars on Ice
Kurt Browning, Elvis Stojko & More!
Event Information
Origionally Scheduled for October 15, 2021
Tickets for October 15 show are valid for May 6, 2022. No further action required.
The 2021 Stars on Ice tour brings figure skating back to its loyal fans across Canada after a 17-month hiatus. The new production, simply entitled "Journey," will effortlessly glide fans into an on-ice visual exploration of the myriad of feelings experienced over the past year.
The 2021 tour cast boasts a lineup of legends and tour favorites, including: four-time World Champion and four-time Canadian Champion Kurt Browning; two-time Olympic Silver Medalist, three-time World Champion and seven-time Canadian Champion Elvis Stojko; Olympic Gold, Silver and Bronze Medalist, 2018 World Gold Medalist and three-time Canadian Champion Kaetlyn Osmond; Olympic Bronze Medalist, World Champion and three-time Canadian Champion Jeffrey Buttle; three-time Canadian Dance Champions, three-time World Medalists and 2018 Olympians Kaitlyn Weaver & Andrew Poje; Olympic Gold, Silver and Bronze Medalist, two-time World Champion, and seven-time Canadian Pair Champion Meagan Duhamel & Olympic Silver Medalist and Canadian Pair Champion Dylan Moscovitch; and two-time United States Champion Alissa Czisny. Please visit www.starsonice.ca for guest skater announcements.
Policies
Mobile Ticketing

Moving forward, all future tickets sold for events at Scotiabank Arena will be Mobile Only Delivery. Download the Official Scotiabank Arena Mobile App to manage your tickets.

Back In Action

Learn more about our our Back In Action plan including important information you'll need to know when returning to events at Scotiabank Arena!

Scotiabank Arena Bag Policy

To protect our fans, employees and team and to align with league and tour standards, a restricted bag policy is in place at Scotiabank Arena. This policy will reduce contact between security staff and patrons' items as well as inhibit the introduction of prohibited items to the venue.

MLSE strongly encourages fans to not bring any type of bags, but fans can view our most current bag policy here.

Subject to change on an event by event basis. Last updated October, 2021.

Re-Entry Policy

Please note that as an additional security measure, no re-entry is permitted after you have exited Scotiabank Arena gates. There are no longer any in-and-out privileges.


Camera Policy

NBA Policy: Camera flashes may not be used at any time during games. Cameras with detachable lenses are strictly prohibited. Video cameras are permitted, however NBA policy strictly prohibits the use of still photos or video footage for commercial purposes without the express written approval of the NBA head office.

NHL Policy: Non-flash still photography is permitted; however, the lens must not exceed 75mm. Video cameras, GoPros, and Selfie Sticks are not permitted.

Concerts: As the camera policy for each event varies, we recommend that fans contact Fan Services at (416) 815-5982 prior to arriving at the building to confirm the camera policy for a particular event. iPads and other tablets are not permitted during Concerts/Special Events. MLSE reserves the right to confiscate any tape or film that is used during an event.