Stars on Ice
Kurt Browning, Elvis Stojko & More!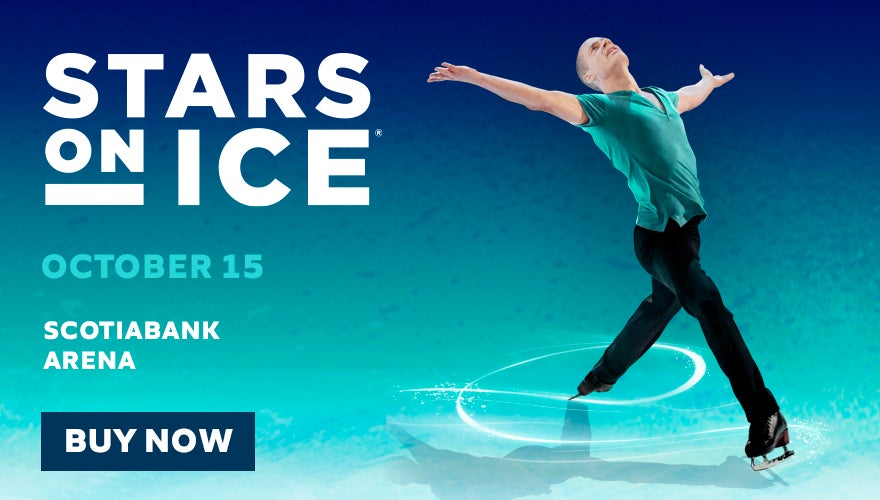 Stars on Ice
Kurt Browning, Elvis Stojko & More!
Event Information
The 2021 Stars on Ice tour brings figure skating back to its loyal fans across Canada after a 17-month hiatus. The new production, simply entitled "Journey," will effortlessly glide fans into an on-ice visual exploration of the myriad of feelings experienced over the past year.
Boasting a lineup of legends and tour favorites including Olympic and World Medalists Kurt Browning, Elvis Stojko, Kaetlyn Osmond, Jeffrey Buttle, Kaitlyn Weaver & Andrew Poje and more, this year's Stars on Ice show is a must-see to celebrate the return of LIVE figure skating!
Policies
Mobile Ticketing

Moving forward, all future tickets sold for events at Scotiabank Arena will be Mobile Only Delivery. Download the Official Scotiabank Arena Mobile App to manage your tickets.

Back In Action

Learn more about our our Back In Action plan including important information you'll need to know when returning to events at Scotiabank Arena!

Scotiabank Arena Bag Policy

The Scotiabank Arena bag policy allows soft-sided bags, purses and briefcases smaller than 14" X 14" X 6" into the building. Permitted bags should be able to fit completely under the arena seats. All bags will be searched. Scotiabank Arena is unable to store oversized bags or prohibited items. Medically necessary items are exempt and will be permitted after inspection

Re-Entry Policy

Please note that as an additional security measure, no re-entry is permitted after you have exited Scotiabank Arena gates. There are no longer any in-and-out privileges.


Camera Policy

NBA Policy: Camera flashes may not be used at any time during games. Cameras with detachable lenses are strictly prohibited. Video cameras are permitted, however NBA policy strictly prohibits the use of still photos or video footage for commercial purposes without the express written approval of the NBA head office.

NHL Policy: Non-flash still photography is permitted; however, the lens must not exceed 75mm. Video cameras, GoPros, and Selfie Sticks are not permitted.

Concerts: As the camera policy for each event varies, we recommend that fans contact Fan Services at (416) 815-5982 prior to arriving at the building to confirm the camera policy for a particular event. iPads and other tablets are not permitted during Concerts/Special Events. MLSE reserves the right to confiscate any tape or film that is used during an event.