Shakira
El Dorado World Tour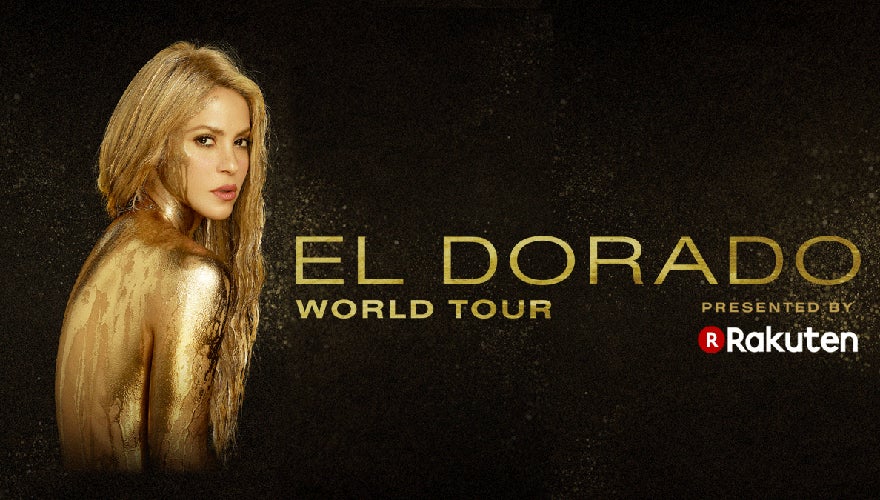 Shakira
El Dorado World Tour
Event Information
Rescheduled from January 20, 2017. Origional tickets will be honoured.
Shakira's doctors have determined that she needs to spend the next few months working towards recovery in order for her vocal cords to be in optimal condition for touring, and as such we are obliged to postpone the U.S. leg of the "El Dorado World Tour," previously scheduled for January 2018.
---
Twelve-time GRAMMY® Award-winner and international superstar Shakira has announced plans to embark on her EL DORADO WORLD TOUR, presented by Rakuten. The tour, produced by Live Nation, will feature many of her catalog hits and kicks off on November 8.

"Thank you all so much for listening to my music in so many places around the world. I can't wait to be onstage again singing along with all of you, all of your favorites and mine. It's going to be fun! The road to El Dorado starts now!" Shakira said.

The tour announcement comes on the heels of Shakira's 11th studio album release, EL DORADO, which hit #1 on iTunes in 37 countries and held 5 of the top 10 spots on the iTunes Latino Chart within hours of its release. The 5x platinum album, including her already massive global hits - "La Bicicleta," "Chantaje," "Me Enamoré," and "Déjà vu"- currently holds the top spot on Billboard's Top Latin Albums, marking her 6th #1 album on this chart. Her single, "Chantaje" featuring Maluma, is 16x diamond certified, while its video currently has been viewed over 1.4 billion times, making it the #5 fastest video to reach 1 billion views worldwide and working its way to soon be the most viewed video of her entire catalogue.
Policies
Mobile Ticketing

Moving forward, all future tickets sold for events at Scotiabank Arena will be Mobile Only Delivery. Download the Official Scotiabank Arena Mobile App to manage your tickets.

Back In Action

Learn more about our our Back In Action plan including important information you'll need to know when returning to events at Scotiabank Arena!

Scotiabank Arena Bag Policy

To protect our fans, employees and team and to align with league and tour standards, a restricted bag policy is in place at Scotiabank Arena. This policy will reduce contact between security staff and patrons' items as well as inhibit the introduction of prohibited items to the venue.

MLSE strongly encourages fans to not bring any type of bags, but fans can view our most current bag policy here.

Subject to change on an event by event basis. Last updated October, 2021.

Re-Entry Policy

Please note that as an additional security measure, no re-entry is permitted after you have exited Scotiabank Arena gates. There are no longer any in-and-out privileges.


Camera Policy

NBA Policy: Camera flashes may not be used at any time during games. Cameras with detachable lenses are strictly prohibited. Video cameras are permitted, however NBA policy strictly prohibits the use of still photos or video footage for commercial purposes without the express written approval of the NBA head office.

NHL Policy: Non-flash still photography is permitted; however, the lens must not exceed 75mm. Video cameras, GoPros, and Selfie Sticks are not permitted.

Concerts: As the camera policy for each event varies, we recommend that fans contact Fan Services at (416) 815-5982 prior to arriving at the building to confirm the camera policy for a particular event. iPads and other tablets are not permitted during Concerts/Special Events. MLSE reserves the right to confiscate any tape or film that is used during an event.

Vaccine Requirements

Each fan aged 12 and older must present proof of full COVID-19 vaccination* along with government issued ID at entry gates to Scotiabank Arena.

We are unable to accept proof of a negative COVID-19 test for admittance (except for guests with a verified medical exemption). Children who are 11 years of age and younger will be exempted from proof of vaccine and testing requirements.

*In accordance with Ministry of Health guidance, an individual is considered fully vaccinated if they have received: (a) the full series of a COVID-19 vaccine authorized by Health Canada, or any combination of such vaccines; (b) one or two doses of a COVID-19 vaccine not authorized by Health Canada, followed by one dose of a COVID-19 mRNA vaccine authorized by Health Canada, or (c) three doses of a COVID-19 vaccine not authorized by Health Canada; and they received their final dose of the COVID-19 vaccine at least 14 days before providing the proof of being fully vaccinated.

A negative COVID-19 test result will no longer be accepted, except for individuals with a doctor's note indicating they cannot receive the vaccine due to medical exemptions.

More information available here.