POSTPONED: Pearl Jam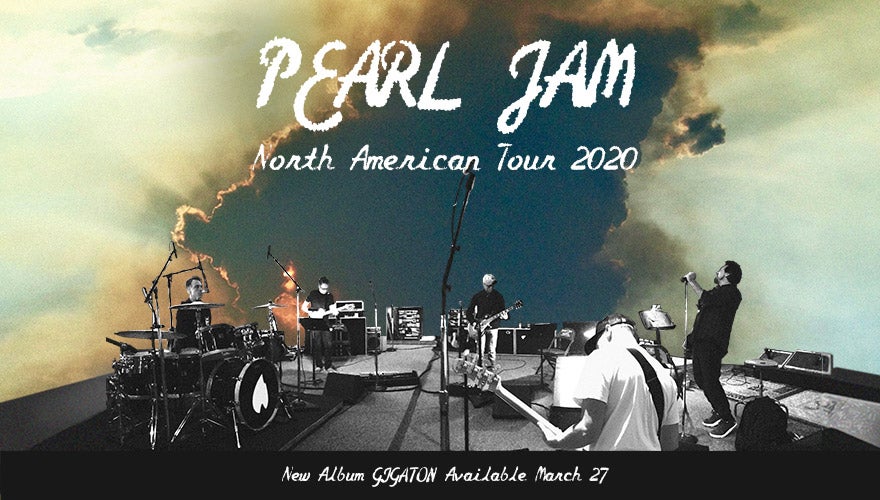 POSTPONED: Pearl Jam
Event Information
NOTICE: Pearl Jam at Scotiabank Arena on March 18 has been postponed. Rescheduled date will be announced as soon as possible. Until then, ticket holders should hold onto their tickets, as they will be valid for the new dates. Thank you for your cooperation and understanding
Your Phone Is Your Ticket
Please take a moment to prepare your tickets on your phone using the steps below prior to arriving at the venue.
Sign in to your Ticketmaster account through the mobile app or your mobile browser.
Tap My Events, then tap on the event to view your tickets.
iPhone: Add your tickets to your Apple Wallet. When you arrive, simply open your ticket in your Apple Wallet, hold your phone near the scanner and you're all set.
Android: View your tickets in the app to automatically save them in advance and reduce the need for WiFi or cell reception upon arrival. You'll scan your tickets right from your app.
Helpful Ticket Tips to Ensure Seamless Entry into Scotiabank Arena
Screenshots and print outs will not be accepted at entry.
Keep in mind WiFi and cell reception at Scotiabank Arena may be busier than normal. We highly recommend saving your tickets ahead of arrival.
Bought Tickets for Others?
Don't forget you must enter together. Make sure you arrive together, plan a meeting spot and arrive early.
What is Ticketmaster SafeTix™?
Ticketmaster SafeTix™ delivers a mobile ticket you can trust at every step. Always with you, always protected and always ready to get you in to your next event.

Ticketmaster SafeTix™ are encrypted mobile tickets built with leading-edge technology, developed with you in mind, and come standard with powerful fraud and counterfeit protection.

Ticketmaster SafeTix™ mobile tickets are powered by a new and unique barcode that automatically refreshes every few seconds so it cannot be stolen or copied, keeping your tickets safe and secure, and 100% yours.

Ticketmaster SafeTix™ gives you peace of mind that your mobile tickets are 100% authentic. Built with a new and unique barcode that automatically refreshes every few seconds, this protects you by preventing a ticket from being screenshotted or photocopied and sold multiple times by unscrupulous sellers.

With Ticketmaster SafeTix™ you never have to worry if that ticket is going to get you in the door. This ticket has you covered at every step with a new and unique barcode that automatically refreshes every few seconds so it cannot be stolen or copied.
Policies
Mobile Ticketing

Moving forward, all future tickets sold for events at Scotiabank Arena will be Mobile Only Delivery. Download the Official Scotiabank Arena Mobile App to manage your tickets.

Back In Action

Learn more about our our Back In Action plan including important information you'll need to know when returning to events at Scotiabank Arena!

Scotiabank Arena Bag Policy

The Scotiabank Arena bag policy allows soft-sided bags, purses and briefcases smaller than 14" X 14" X 6" into the building. Permitted bags should be able to fit completely under the arena seats. All bags will be searched. Scotiabank Arena is unable to store oversized bags or prohibited items. Medically necessary items are exempt and will be permitted after inspection

Re-Entry Policy

Please note that as an additional security measure, no re-entry is permitted after you have exited Scotiabank Arena gates. There are no longer any in-and-out privileges.


Camera Policy

NBA Policy: Camera flashes may not be used at any time during games. Cameras with detachable lenses are strictly prohibited. Video cameras are permitted, however NBA policy strictly prohibits the use of still photos or video footage for commercial purposes without the express written approval of the NBA head office.

NHL Policy: Non-flash still photography is permitted; however, the lens must not exceed 75mm. Video cameras, GoPros, and Selfie Sticks are not permitted.

Concerts: As the camera policy for each event varies, we recommend that fans contact Fan Services at (416) 815-5982 prior to arriving at the building to confirm the camera policy for a particular event. iPads and other tablets are not permitted during Concerts/Special Events. MLSE reserves the right to confiscate any tape or film that is used during an event.