Nitro Circus
You Got This Tour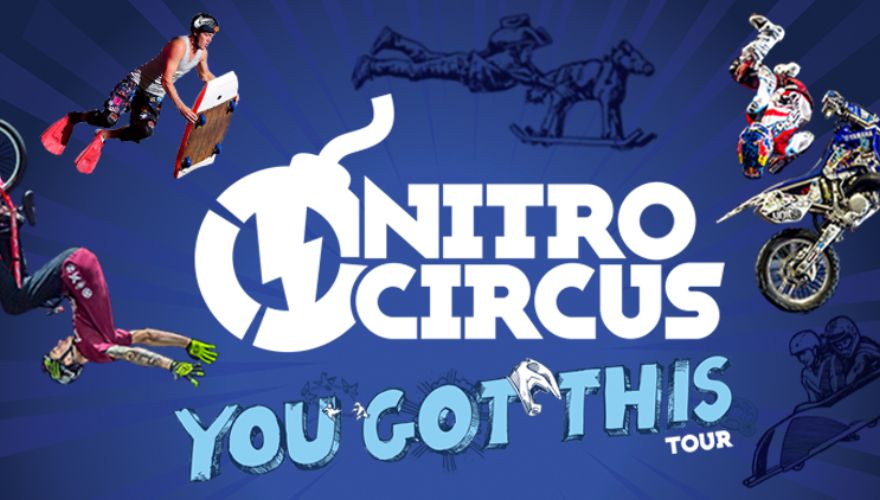 Nitro Circus
You Got This Tour
Event Information
Nitro Circus' biggest moments, and some of its most notorious crashes, have come from the mind of Travis Pastrana. For the action sports icon, pushing the envelope is just another day at the office. But Pastrana also has the uncanny ability to encourage his fellow riders to go big or go home as well… In some cases despite their better judgment! Now with the 2018 You Got This tour, Travis debuts as executive producer to ramp up the shenanigans with the greatest, craziest, funniest show in Nitro Circus history.
Kicking off September 28, 2018 at Montreal's Centre Bell, Nitro Circus: You Got This will visit U.S. and Canada arenas this fall. Fans can get a jump on the action, though, with tickets on sale starting Friday, March 9.
"Nitro Circus is turning me loose to oversee the creative on this tour for the first time! With the You Got This Tour, I'm putting all of my best – and worst – ideas into one huge show," Pastrana says. "Expect bigger, brand-new ramps and even more ridiculous stunts. It's going to be unreal! Look out, though. There may be a few rough landings."
The You Got This tour will feature Nitro Circus' best athletes in FMX, BMX, Scooter and Inline, including multiple X Games medalists and several Nitro World Games champions. An all-star roster will attempt both never before seen tricks and completely ill-advised stunts.
This tour will debut an audacious production complete with new huge ramps and crazy contraptions. Sketchy challenges will be thrown down. Who will take them up? With this crew, you never know what will happen, but without a doubt You Got This will be totally wide open, with more thrills, more excitement and more irreverence than ever before.
"You Got This is more than a tour, it's a mindset," Pastrana explains. "As Nitro's ringleader, one of my jobs is to inspire guys to push themselves to go further, farther and faster than they thought they could. Sometimes, maybe more than they should! It's a challenge, no doubt. But one we live for, and I can't wait for the guys to throw down on this tour."
Policies
Scotiabank Arena Bag Policy

The Scotiabank Arena bag policy allows soft-sided bags, purses and briefcases smaller than 14" X 14" X 6" into the building. Permitted bags should be able to fit completely under the arena seats. All bags will be searched. Scotiabank Arena is unable to store oversized bags or prohibited items. Medically necessary items are exempt and will be permitted after inspection

Re-Entry Policy

Please note that as an additional security measure, no re-entry is permitted after you have exited Scotiabank Arena gates. There are no longer any in-and-out privileges.


Camera Policy

NBA Policy: Camera flashes may not be used at any time during games. Cameras with detachable lenses are strictly prohibited. Video cameras are permitted, however NBA policy strictly prohibits the use of still photos or video footage for commercial purposes without the express written approval of the NBA head office.

NHL Policy: Non-flash still photography is permitted; however, the lens must not exceed 75mm. Video cameras, GoPros, and Selfie Sticks are not permitted.

Concerts: As the camera policy for each event varies, we recommend that fans contact Fan Services at (416) 815-5982 prior to arriving at the building to confirm the camera policy for a particular event. iPads and other tablets are not permitted during Concerts/Special Events. MLSE reserves the right to confiscate any tape or film that is used during an event.