Drake
Aubrey & The Three Migos Tour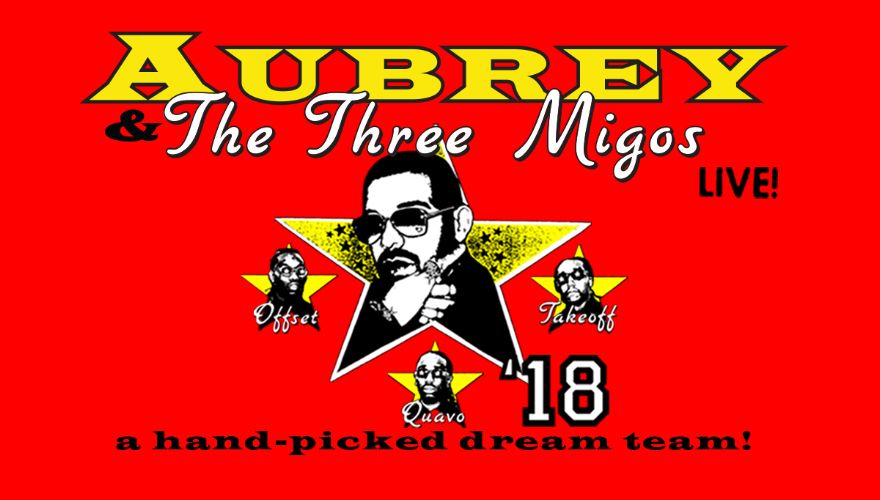 Drake
Aubrey & The Three Migos Tour
Event Information
In order to deliver the high standard tour experience you expect and deserve, your Aubrey & the Three Migos tour date is being rescheduled
· Toronto 8/10 moving from 8/10 to 8/20 (8:00 PM Show time) - Due to circumstances beyond our control, the Aubrey & The Three Migos tour date in Toronto originally scheduled for August 20th is being postponed. Tickets will be honoured for the new date when announced.
· Toronto 8/11 moving from 8/11 to 8/21 (7:00 PM Show time)
· Toronto 8/12 moving from 8/12 to 8/22 (7:00 PM Show time)
Tickets purchased for the original show dates will be honored for the rescheduled dates.
Policies
Scotiabank Arena Bag Policy

The Scotiabank Arena bag policy allows soft-sided bags, purses and briefcases smaller than 14" X 14" X 6" into the building. Permitted bags should be able to fit completely under the arena seats. All bags will be searched. Scotiabank Arena is unable to store oversized bags or prohibited items. Medically necessary items are exempt and will be permitted after inspection

Re-Entry Policy

Please note that as an additional security measure, no re-entry is permitted after you have exited Scotiabank Arena gates. There are no longer any in-and-out privileges.


Camera Policy

NBA Policy: Camera flashes may not be used at any time during games. Cameras with detachable lenses are strictly prohibited. Video cameras are permitted, however NBA policy strictly prohibits the use of still photos or video footage for commercial purposes without the express written approval of the NBA head office.

NHL Policy: Non-flash still photography is permitted; however, the lens must not exceed 75mm. Video cameras, GoPros, and Selfie Sticks are not permitted.

Concerts: As the camera policy for each event varies, we recommend that fans contact Fan Services at (416) 815-5982 prior to arriving at the building to confirm the camera policy for a particular event. iPads and other tablets are not permitted during Concerts/Special Events. MLSE reserves the right to confiscate any tape or film that is used during an event.