Cirque du Soleil
Corteo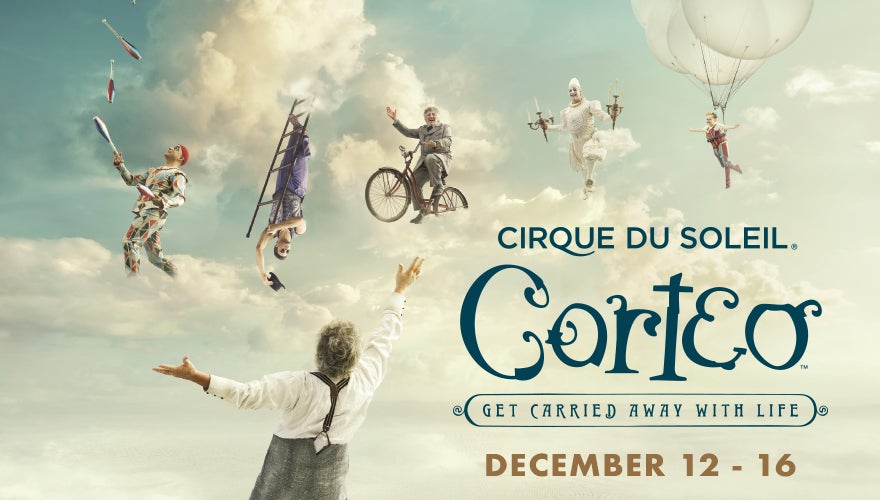 Cirque du Soleil
Corteo
Event Information
Corteo, which means cortege in Italian, is a joyous procession, a festive parade imagined by a clown. The show brings together the passion of the actor with the grace and power of the acrobat to plunge the audience into a theatrical world of fun, comedy and spontaneity situated in a mysterious space between heaven and earth.
The clown pictures his own funeral taking place in a carnival atmosphere, watched over by quietly caring angels. Juxtaposing the large with the small, the ridiculous with the tragic and the magic of perfection with the charm of imperfection, the show highlights the strength and fragility of the clown, as well as his wisdom and kindness, to illustrate the portion of humanity that is within each of us. The music turns lyrical and playful carrying Corteo through a timeless celebration in which illusion teases reality.
Additional Ticket Information

Advance tickets for Corteo are available now online to Cirque Club members. Cirque Club membership is free and benefits includes access to advance tickets, special offers and exclusive behind the scenes information. To join, go to www.cirqueclub.com.
Policies
Scotiabank Arena Bag Policy

The Scotiabank Arena bag policy allows soft-sided bags, purses and briefcases smaller than 14" X 14" X 6" into the building. Permitted bags should be able to fit completely under the arena seats. All bags will be searched. Scotiabank Arena is unable to store oversized bags or prohibited items. Medically necessary items are exempt and will be permitted after inspection

Re-Entry Policy

Please note that as an additional security measure, no re-entry is permitted after you have exited Scotiabank Arena gates. There are no longer any in-and-out privileges.


Camera Policy

NBA Policy: Camera flashes may not be used at any time during games. Cameras with detachable lenses are strictly prohibited. Video cameras are permitted, however NBA policy strictly prohibits the use of still photos or video footage for commercial purposes without the express written approval of the NBA head office.

NHL Policy: Non-flash still photography is permitted; however, the lens must not exceed 75mm. Video cameras, GoPros, and Selfie Sticks are not permitted.

Concerts: As the camera policy for each event varies, we recommend that fans contact Fan Services at (416) 815-5982 prior to arriving at the building to confirm the camera policy for a particular event. iPads and other tablets are not permitted during Concerts/Special Events. MLSE reserves the right to confiscate any tape or film that is used during an event.