Celine Dion
Courage World Tour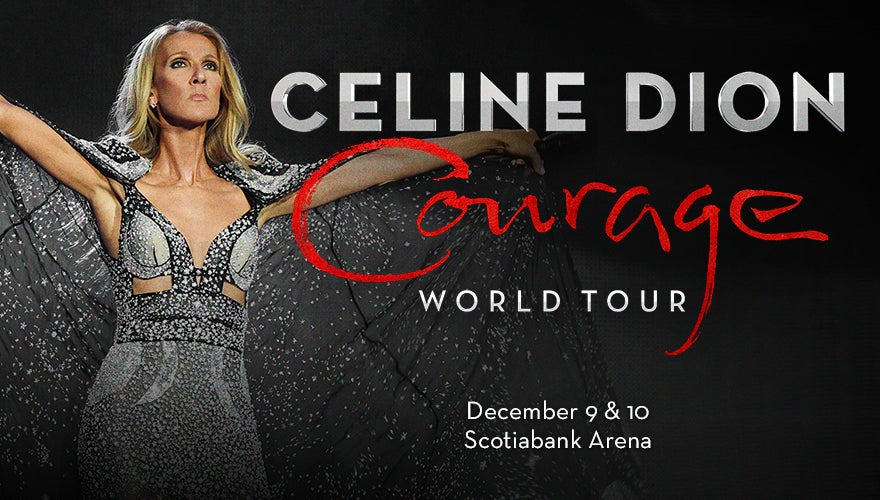 Celine Dion
Courage World Tour
Event Information
Due to incredible ticket demand, Celine Dion, has added a second and final show in Toronto as part of her COURAGE WORLD TOUR, which is set to kick off in the fall of 2019. The tour will begin in Québec City on September 18, and will hit Toronto on December 9 and 10. The COURAGE WORLD TOUR will make stops in over 50 cities including Montreal, Chicago, Toronto, Boston, Miami, Dallas, Philadelphia, Brooklyn, Los Angeles, San Francisco, Vancouver, and more. The tour is produced by Concerts West/AEG Presents.
On April 3, the multiple award-winning artist made the announcement about her tour to a packed house of fans during a special live event at the Theatre at the Ace Hotel in Los Angeles. Unveiling a short video chronicling the end of her iconic Las Vegas residency, Celine surprised the audience with the news of the COURAGE WORLD TOUR, her first U.S. tour in over 10 years. Delighting her fans with a very special performance of songs from her chart-topping catalogue, Dion closed the event with an intimate Q&A with the audience. Watch the full event through a previously recorded Facebook Live here.
Celine says, "I'm so grateful to all the fans who have come to see my show in Las Vegas for so many years, and now I get the chance to create a brand new show and bring it to them in North America, and around the world. I'm very excited about this tour, and my new album...coming later this year."
Members of TeamCeline have access to purchase tickets before the public through an advance pre-sale. American Express® Card Members can purchase tickets before the public now through Thursday, April 11 at 10pm local time.
"We've been thrilled to be working with Celine for these last sixteen years in Las Vegas, and we're even more delighted that for the first time in more than a decade, she will be bringing her show to her fans, all around the world, starting here in North America this September," said John Meglen President & Co-CEO of Concerts West. "Celine is a treasure, truly a voice for the ages."
Policies
Mobile Ticketing

Moving forward, all future tickets sold for events at Scotiabank Arena will be Mobile Only Delivery. Download the Official Scotiabank Arena Mobile App to manage your tickets.

Back In Action

Learn more about our our Back In Action plan including important information you'll need to know when returning to events at Scotiabank Arena!

Scotiabank Arena Bag Policy

The Scotiabank Arena bag policy allows soft-sided bags, purses and briefcases smaller than 14" X 14" X 6" into the building. Permitted bags should be able to fit completely under the arena seats. All bags will be searched. Scotiabank Arena is unable to store oversized bags or prohibited items. Medically necessary items are exempt and will be permitted after inspection

Re-Entry Policy

Please note that as an additional security measure, no re-entry is permitted after you have exited Scotiabank Arena gates. There are no longer any in-and-out privileges.


Camera Policy

NBA Policy: Camera flashes may not be used at any time during games. Cameras with detachable lenses are strictly prohibited. Video cameras are permitted, however NBA policy strictly prohibits the use of still photos or video footage for commercial purposes without the express written approval of the NBA head office.

NHL Policy: Non-flash still photography is permitted; however, the lens must not exceed 75mm. Video cameras, GoPros, and Selfie Sticks are not permitted.

Concerts: As the camera policy for each event varies, we recommend that fans contact Fan Services at (416) 815-5982 prior to arriving at the building to confirm the camera policy for a particular event. iPads and other tablets are not permitted during Concerts/Special Events. MLSE reserves the right to confiscate any tape or film that is used during an event.