Billy Talent & Rise Against
Support: NOBRO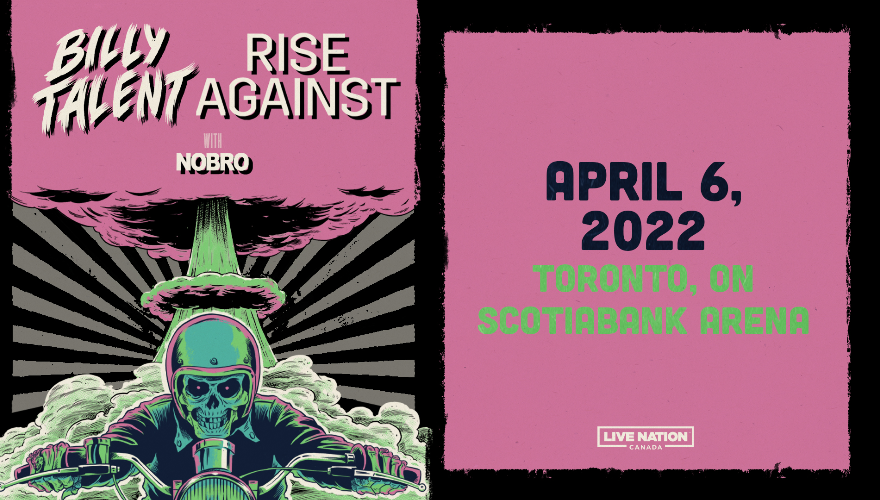 Billy Talent & Rise Against
Support: NOBRO
Food Drive

We're very excited about our upcoming tour of Canada and we can't wait to see you. As you may know, many Canadians have been facing food insecurities during the recent pandemic. We want to do something to address this so we'll be working with a local food bank in each of the upcoming tour cities to collect food for them to distribute to those who most need it. We'd like to ask you each to please bring a non-perishable (e.g. canned) food item to the show. Drop-off areas will be setup outside the venue.

The band will also be making a financial donation to the food banks after every show. Thanks for helping us help others in real need. See you at the show!

Nous sommes très enthousiastes par notre prochaine tournée au Canada et nous avons hâte de vous voir. Comme vous le savez peut-être, de nombreux Canadiens ont été confrontés à l'insécurité alimentaire lors de la récente pandémie. Nous voulons faire quelque chose pour remédier à ce problème. Nous allons donc travailler avec une banque alimentaire locale dans chacune des villes de la tournée à venir afin de collecter des denrées alimentaires qui seront distribuées à ceux qui en ont le plus besoin. Nous vous demandons à chacun d'entre vous d'apporter un produit alimentaire non périssable (par exemple, une boîte de conserve) au spectacle. Des zones de dépôt seront installées à l'extérieur de la salle.

Le groupe fera également un don financier aux banques alimentaires après chaque spectacle. Merci de nous aider à aider les personnes dans le besoin. On se voit au spectacle !
Policies
Mobile Ticketing

Moving forward, all future tickets sold for events at Scotiabank Arena will be Mobile Only Delivery. Download the Official Scotiabank Arena Mobile App to manage your tickets.

Back In Action

Learn more about our our Back In Action plan including important information you'll need to know when returning to events at Scotiabank Arena!

Scotiabank Arena Bag Policy

To protect our fans, employees and team and to align with league and tour standards, a restricted bag policy is in place at Scotiabank Arena. This policy will reduce contact between security staff and patrons' items as well as inhibit the introduction of prohibited items to the venue.

MLSE strongly encourages fans to not bring any type of bags, but fans can view our most current bag policy here.

Subject to change on an event by event basis. Last updated October, 2021.

Re-Entry Policy

Please note that as an additional security measure, no re-entry is permitted after you have exited Scotiabank Arena gates. There are no longer any in-and-out privileges.


Camera Policy

NBA Policy: Camera flashes may not be used at any time during games. Cameras with detachable lenses are strictly prohibited. Video cameras are permitted, however NBA policy strictly prohibits the use of still photos or video footage for commercial purposes without the express written approval of the NBA head office.

NHL Policy: Non-flash still photography is permitted; however, the lens must not exceed 75mm. Video cameras, GoPros, and Selfie Sticks are not permitted.

Concerts: As the camera policy for each event varies, we recommend that fans contact Fan Services at (416) 815-5982 prior to arriving at the building to confirm the camera policy for a particular event. iPads and other tablets are not permitted during Concerts/Special Events. MLSE reserves the right to confiscate any tape or film that is used during an event.