2021 Juno Awards
50th anniversary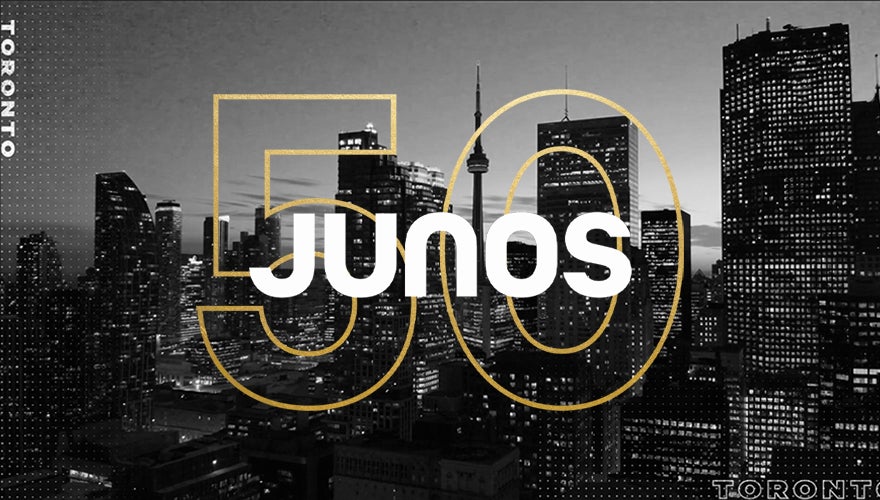 2021 Juno Awards
50th anniversary
Sunday /

Mar

28

, 2021

TBA

On Sale TBA
Event Information
The JUNO Awards will be returning to Toronto for its 50th anniversary, as announced today by The Canadian Academy of Recording Arts and Sciences (CARAS). The 2021 JUNO Awards and JUNO Week will take place March 22-28, 2021 culminating in The 50th Annual JUNO Awards Broadcast at Scotiabank Arena on Sunday, March 28, 2021, to be aired live on CBC.

"50 years ago Walt Grealis and Stan Klees created the JUNO Awards right here in Toronto and it's an honour to bring Canada's biggest night in music back home to where it all started," said Allan Reid, President & CEO, CARAS / The JUNO Awards and MusiCounts. "This country continues to produce some of the most vibrant artists in the world and we invite you to join us in what will be the greatest national celebration of Canadian music ever."

JUNO Week 2021 returns to Toronto after a decade, with the support of the Province of Ontario and the City of Toronto. This will be the 26th time that Toronto has hosted Canada's most iconic celebration of music, which remained in Toronto for its first 20 years - starting out in 1970 at St. Lawrence Hall, a historic venue that held an intimate 250 people. Since then, the awards show has grown to fill venues of over 15,000 seats and traveled from coast-to-coast, from St. John's, NL, to Vancouver, BC, honouring the best in Canadian musical talent.

"Toronto is proud to host The JUNO Awards for their 50th anniversary," said Mayor John Tory. "As the biggest event in Canadian music, this is a great opportunity for Toronto to welcome The JUNO Awards back home to where it all began 50 years ago and highlight the city's truly diverse yet quintessentially Canadian spirit. We look forward to hosting the best of Canadian music in 2021!"

"Ontario's amazing artists, industry professionals and emerging talent exemplify that we offer the world in one province," said Lisa MacLeod, Ontario's Minister of Tourism, Culture and Sport. "We're ready to share it with the rest of the country by welcoming the JUNO Awards back to Ontario for their 50th anniversary, which will help drive our $25 billion culture sector and contribute to an overall economic footprint of $71 billion dollars when factoring in tourism, culture, and sport."

Toronto, Canada's largest city and one of the most culturally diverse cities in the world, is known for its vibrant and ever-evolving music scene. The city has produced some of Canada's most iconic and best-selling artists in the world. Since the JUNO Awards hit the road in 2002, each host city has seen an average of over $10 million in economic impact of the awards broadcast, JUNO Week and surrounding events.

The origins of the JUNO Awards date back to 1970. In that year, Walt Grealis and Stan Klees, publishers of the weekly trade publication, RPM, organized the Gold Leaf Awards, held at the St. Lawrence Hall in Toronto. A year later, the name of the award was changed to honour Pierre Juneau, the first head of the CRTC and responsible for the implementation of the Canadian Content Regulations in 1971.

The 50th annual JUNO Awards and JUNO Week 2021 will be hosted in Toronto, ON from March 22 through 28 with the finale event, The JUNO Awards Broadcast, on March 28 at the Scotiabank Arena. The broadcast will be aired live on CBC, CBC Radio One, CBC Music, the free CBC Gem streaming service in Canada and globally at www.CBCMusic.ca/junos.
Policies
Scotiabank Arena Bag Policy

The Scotiabank Arena bag policy allows soft-sided bags, purses and briefcases smaller than 14" X 14" X 6" into the building. Permitted bags should be able to fit completely under the arena seats. All bags will be searched. Scotiabank Arena is unable to store oversized bags or prohibited items. Medically necessary items are exempt and will be permitted after inspection

Re-Entry Policy

Please note that as an additional security measure, no re-entry is permitted after you have exited Scotiabank Arena gates. There are no longer any in-and-out privileges.


Camera Policy

NBA Policy: Camera flashes may not be used at any time during games. Cameras with detachable lenses are strictly prohibited. Video cameras are permitted, however NBA policy strictly prohibits the use of still photos or video footage for commercial purposes without the express written approval of the NBA head office.

NHL Policy: Non-flash still photography is permitted; however, the lens must not exceed 75mm. Video cameras, GoPros, and Selfie Sticks are not permitted.

Concerts: As the camera policy for each event varies, we recommend that fans contact Fan Services at (416) 815-5982 prior to arriving at the building to confirm the camera policy for a particular event. iPads and other tablets are not permitted during Concerts/Special Events. MLSE reserves the right to confiscate any tape or film that is used during an event.